Allô!
Nowadays, BB Cream suddenly becomes a must have in most beauty bag. I personally dislike using foundation because it feels heavy and really uncomfortable on my face. But I do realize my face needs some help to even out its color, so BB Cream is like a light out for my problem. Not only it's light enough to use on daily basis, it does the job as moisturizer too, even sun cream at the same time. And now I want to tell you guys about a BB Cream I've been using for this past year, Canmake Perfect Serum BB Cream.
Canmake is a skincare brand from Japan. It is an affordable drugstore product which is pretty popular there. Anyway, I bought it at first because the packaging kinda get a soft spot in my heart. But well, the product works well so it's a nice bonus.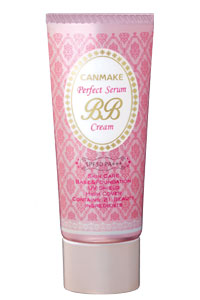 PRODUCT DESCRIPTION
The BB cream born from beauty serum ☆
You can care for your skin just by applying it. Contains 21 types of beautifying ingredients. Natural, yet with superb coverage ♥
SPF50 & PA+++, with a formulation that's gentle on your skin ♥
A skincare product that reduces the effect of the sun's rays and acts as a foundation with sheer coverage!
PACKAGING
It has a really cute packaging with pink as the background. It is cute and it is pink, what's not to love right? Even so, perhaps older user might want to keep off because of the cute packaging as they prefer the simpler one.
This BB Cream has a somewhat a not too thick yet nor runny consistency. It is not the easiest BB Cream to spread over though. Doesn't has any fragrance. It has a medium coverage and no oil control. It didn't last really long (perhaps only 2 or 3 hours) though but when applied, I found it really even out my skin tone and cover not-so-heavy imperfection I have. I'm not really sure though if it covers a deep acne scar since I don't have it.
RESULT
I've using this product for nearly one and a half years and I still get quiet a bit left. I forgot how much I bought this product before, but considering the affordable price, this product is quiet a steal. The SPF 50+++ is a bonus for me since I don't really like slaughter too many products on my face. Canmake Perfect Serum BB Cream has a matte finish which I love so so so much.
Positive:
- Cute packaging
- Moisturizing well
- Has a SPF 50 PA+++
- Matte finish
- Affordable
Negative:
- Doesn't have oil control
- Doesn't last long
- Hard to find in Indonesia
Recommended?
Yes. This is a really nice BB Cream to use daily. Not only it's even out the skin tone, but also moisturize and protect the skin from sun rays. Especially people who likes matte finish must give this product a try.

à bientôt!